Laser, Inertial, Wire and Optically Guided Automatic Guided Vehicles AGV Systems
Keymss provide your AGV system with over 20 years of Automated Guided Vehicle experience profiling many household names. AGV vehicles are available in many versions and are based on a standardised component.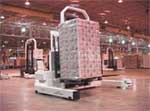 The AGV's are controlled by the unique multi-mode navigation system. The system is constructed in accordance with a transparent structure that allows the integration of all existing and future guidance technologies. Flexible techniques enable modifications to the layout to be achieved in a moment of time.