Growing and looking for a way to automate your picking system?
Keymas have worked with companies automating there order fulfilment. Whether you are a growing eCommerce company looking to streamline your picking or a distribution company that needs to cut costs and become more efficient, we offer a full end to end service to make you more efficient in the warehouse.
Using our company's strengths of conveyor control automation and advanced warehouse software we have worked with many companies, from leading brands to fast growing eCommerce companies, implementing a lean automated approach to the operation. This full project approach means that we can work with your team to find ways of improving the fulfilment whether it is on the layout of the conveyor or the picking process.
The benefits of having this approach:
The system and software work together to create an efficient and effective solution to order fulfilment.
Picking process can be made more efficient with reduced labour costs.
Picking using barcode scanners increase accuracy and lead to more accurate order fulfilment to your customer.
As we have our own software we can work with your team to customise any part to meet the needs of how you fulfil the orders.
Integration with your business, accounts or eCommerce system. We have worked with a wide range of different systems and are confident we can integrate effectively with your system.
Accurate live inventory management.
Reduce your postage rates by increasing accuracy and volumizing the orders to get the best sizes and weights for postage.
Full project design (if needed) can mean that the software and engineering system work together giving big benefits in the overall system.
Our picking system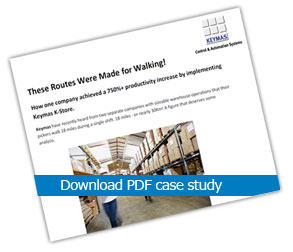 Download the "These Routes Were Made for Walking!" case study and find out how one company achieved a 750%+ productivity increase by implementing Keymas K-Store.
Read our case study of how we transformed the distribution centre of a leading pet food supplier and not only reduced costs but at the same time increased the picking rates and orders out to the customers.
The Keymas project approach takes both the conveyor system side of our company and combines it with the intelligent warehouse software side. We have designed full systems from the ground up working along with the customer to build successful projects transforming the warehouse operations.
If you would like to speak to one of our team to see how we can work with you on any part of the warehouse automation or full project side then contact us and we would be happy to talk through with you on ideas and ways to move your business forward in the warehouse. Whether your project is at the start and you are looking at ideas to become more efficient, or would like to improve a system that is already in place we can work with you to find solutions for you.